The CCC Club operates from the Craft Room of the Telegraph Hill Cantre, and the Play Club in Telegraph Hill Lower Park.
Correspondence should be directed to
The CCCClub
Telegraph Hill Centre
Kitto Road
London
SE14 5TY
Club Phone: 0203 583 6364
email: karenpalmerccc@gmail.com
twitter: @thecccclub
How to find us (main club site)
If you walk down hill from the top of Kitto Road, you'll pass The Hillstation Cafe on your left. Turn left up St Catherine's Drive, which is immediately after The Hillstation, but before you get to the entrance to Telegraph Hill Upper Park: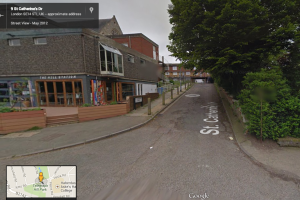 Walk up St Catherine's Drive, to the end of the fenced garden which will be on your left: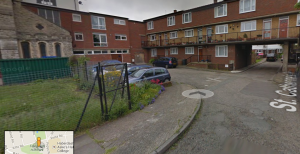 Turn left, and ahead of you, just to the right of where the old church building meets the newer red brick building, you will see a single red door and some double red doors.  The entrance to The CCC Club is through the single red door.  Please use the intercom to talk to a member of staff and gain access.
The Directors can be contacted at jakecccclub@gmail.com, but this should only be used for escalating issues that you have not been able to resolve with our staff and management.