Monthly Archives:
February 2014
4 great job at The CCC Club - contact mail@theccclub.org for an application form
Download Playworker Job Description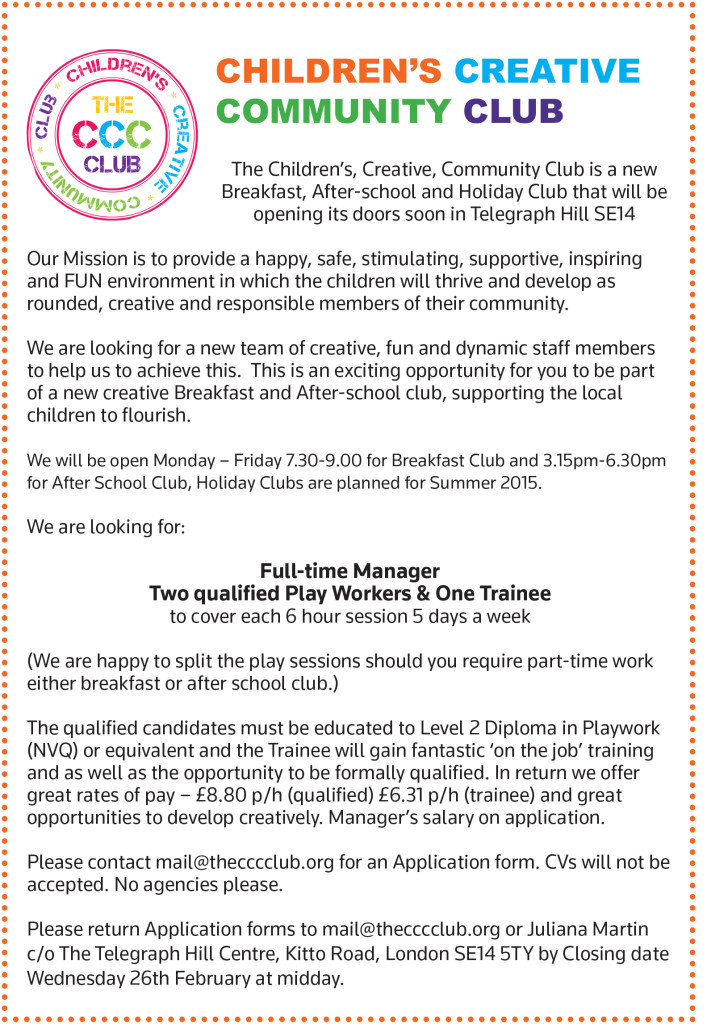 The message below was sent to the CCC Club Mailing list on 4th Feb 2014. Please email us if you'd like to be added to the mailing list.
___
Dear All
I thought I'd write to everyone who has expressed an interesting in registering their child(ren) for The Children's Creative Community Club, to update you all on our progress.
The Story So Far...
Spreading The Word
We've had lots of interest in the club over the last few weeks, and it has been very heartening to hear that you are as excited about it as we are!  By the end of this week we will have been featured John Stainer, Edmund Waller and Haberdasher's newsletters, and the Brockley Blog.  And you may have spotted Jake and his two kids pinning posters to trees by torchlight...
Register Of Interest
So far there has been a good variety in the kinds of care that you have requested:  a handful of you are looking for full-time care; quite a few of you want to use the after-school club every day, but it seems that the majority of you are looking for a few days a week of after-school care for your kids.  My fellow directors and I will do everything we can to try to address all of your childcare requirements.
Creating An Amazing Space
Suzanne Tate - a CCC Club Director, Waller Parent and Interior Architect - has been working with The Telegraph Hill Centre on the design and layout of the CCC Club Space.  We will share more details soon, but you can be certain that we will create a unique and inspiring place in which your kids can play, learn, create and relax.
Breakfast Club
We plan to run the breakfast club from 07.30 - 09.00 every day, and will make sure that children attending have a fun, relaxed and well-nourished start to the day before being dropped off at school.
There has been less interest in the breakfast club than in the after-school club, so we wanted to ask you if there was anything we could do to make the breakfast club more useful and attractive to you and your families?  Suggestions so far have included yoga, meditation, and story-telling, but what would YOU and your kids like to be offered?
Building Our Team
Cher Moore, our manager, is about to advertise 3 great jobs at The CCC Club - two playworker and one trainee / apprentice playworker roles, all at 30 hours per week, and paying competitive and fair wages.  Perhaps you know someone who might want to apply to be part of the team?  We will email you once the Job Descriptions are online.
Fundraising, Kit Donations and Sponsorship
As a social enterprise, we aim to keep the cost to families as low as possible and the quality of care as high as possible.  We will soon begin to seek ongoing sponsors and one-off donations (of equipment and money) from the local business community and beyond.  If you have any suggestions of possible supporters, please let us know.  More info here
Meet the Directors
On Saturday 8th Feb from 1-4 you can meet some of the CCC Club Directors at the Telegraph Hill Centre Tabletop Sale.  Find out more about the CCC Club, ask questions, or just come and say hi…
Kind Regards
Cher, Dawn, Jake, Julianna, Kate and Suzanne
(The CCC Club Team)
www.thecccclub.org